Implant Coating
Aran Biomedical offers a range of versatile coating capabilities to enhance the functionality of medical devices.  By offering multiple processing techniques, ultra low profile coatings can be achieved on even the most complex implant geometries, from stents, braids and diverse implant frame designs, to a range of textile fabrics. High tolerance coatings typically ranging from 5-50 microns thick can be tailored precisely to customer requirements.  Aran Biomedical's coating technology is just one of a number of processing techniques used to create hybrid devices and complex structures for a wide range of indications.

The company specialise in polymeric coatings, chosen from a wide range of resorbable and non-resorbable materials.  Coating formulation can be tailored to the application, in terms of thickness, surface finish, surface properties, degradation etc.  Mechanical performance is customised through the choice of materials and processing techniques, to create coatings that can act as an active or passive layer. Material characterisation and quality control are achieved using non-contact thickness measurement, I.V. analysis, coating distribution evaluation, and residual moisture testing.
Coating Options:
Lubricious Coatings
Hydrophilic coatings are used by Aran Biomedical to create a lubricious surface for implantable devices.  The principle benefit of a lubricious coating is to substantially reduce surface friction, facilitating implant delivery and deployment, while additional benefits may be recognised in-vivo, such as reduced potential for tissue damage, lower bacterial adherence or biofilm formation.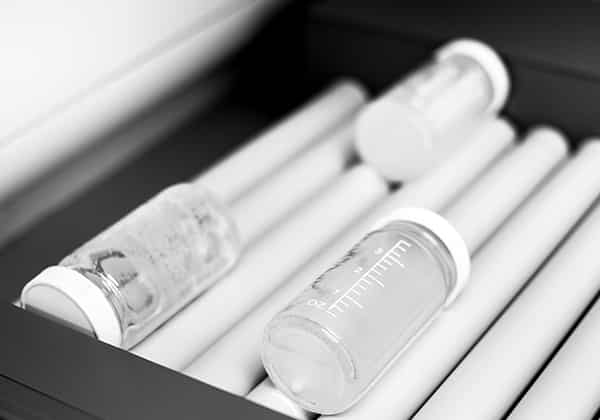 Elastomeric Coatings
Elastomeric coatings offer numerous functional benefits for implantable devices.  The most obvious application is to create a blood impermeable barrier, which restricts blood flow to key locations. The barrier can also eliminate tissue adhesion to an implant, or contain material, such as thrombus, emboli or ureteral stone fragments, for example.  Coatings can be extremely low profile and yet durable enough to be applied to almost any underlying implant surface, such as laser cut stents, braided devices or textiles.  Aran Biomedical's experience working with a diverse range of implantable elastomeric materials, such as silicones, polyurethanes and co-polymers, facilitates selection of appropriate material grades for an underlying application, taking into consideration mechanical properties such as: shore hardness, flexural modulus, ultimate tensile strength, tear resistance and ultimate elongation.