Sports Medicine Solutions
Aran Biomedical has amassed considerable expertise within the Sports Medicine market, focused on development of higher strength implantable solutions. This includes sutures, both resorbable and non-resorbable, as well as high strength resorbable implants.
High strength sutures are an invaluable component for Sport Medicine procedures to withstand the necessary loads experienced during the tissue healing process. In addition to mechanical strength, suture textile design directly influences elongation properties, handling and feel, to enable easy knot tying and knot integrity.
A wide range of novel suture designs are possible with optimisation achieved, not only from the textile configuration, but from the choice of materials and yarn pre-conditioning. High strength materials such as UHMWPE can be used with or without standard nylon, polyester and polypropylene materials. The yarns can be pre-processed to impart additional strength and feel, while braided designs can have multiple design configurations, with or without a core.
Aran Biomedical also manufactures modified sutures to facilitate tissue anchor fixation.
Designs that include bifurcations and loop features, can eliminate or simplify knot tying procedures during implant fixation or be used in the development of 'All Suture' anchors.
Flat to Round Sutures
The round to flat suture, is a unique suture design tailored for soft tissue repair.  A standard USP 2 suture transitions into flat 5mm wide tape and back into a round USP 2 suture. The suture tape inhibits tissue cut through, while the round suture supports secure knot tying.

Tendon Reinforcement Mesh
Resorbable mesh can be used in Sport Medicine for tendon reinforcement, as an adjunct to suture anchor repair.  The mesh can provide crucial support, during the initial healing process, reducing the risk of post-procedural complications. In addition, gradual mass loss of the mesh, coinciding with natural tissue replacement, avoids the risk of long term complications associated with permanent implants.
High Strength Resorbable Anchors
Bio-XT Reinforced Resorbable Implants
Aran Biomedical Bio-XT processing technology enables the development of considerably higher strength resorbable implants, using the same resorbable material grades as those used in current products.  As a result, next generation suture anchors and interference screws can easily avail of improved performance and product design features, by using Aran's Bio-XT, processing technology.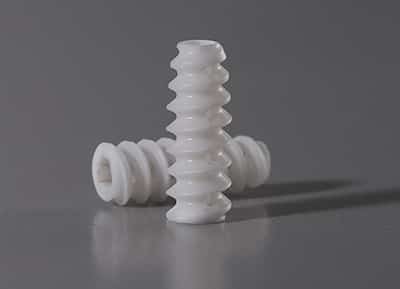 The proprietary processing technology is based on the optimisation of the material microstructure, in which the material is physically orientated and reinforced but chemically unchanged. Resulting performance gains are enabled through maximisation of the inherent material mechanical properties, which are compromised during standard processing such as injection moulding and extrusion. Bio-XT offers an excellent platform upon which to develop next generation resorbable orthopaedic products. Strength and toughness increases achievable using Bio-XT can facilitate the following disruptive innovations to orthopaedic implant design.
Introduction of stronger resorbable products, for load-bearing indications, for which only non-resorbable products are currently considered suitable.
Introduction of highly porous products, facilitating osteo-conductivity for higher quality tissue regeneration, without compromising product strength.
Introduction of lower profile products compared to currently available resorbable products, using less material, without compromising product strength