Structural Heart Solutions
Textile Frame Covering
Textiles are widely used to cover surgical and transcatheter structural heart implants.  This can include very thin, high-density, woven PET, where the focus is on creating the lowest profile covering to a fixed dimension that will inhibit regurgitation. This is typical in aortic valve frames/ TAVI devices.  Alternatively, knitted fabric is used, where the fabric needs to stretch and conform around the implant frame.  For surgical implants, where fabric thickness is less of a concern, velour fabric is sometimes employed to create a textile scaffold for tissue ingrowth.

Annuloplasty rings help to reshape damaged valves, inhibiting regurgitation and supporting improved blood flow. Textiles are traditionally used in annuloplasty ring designs, as they promote tissue growth, and provide solid anchoring. Polyester knit and braid structures are the conventional medical textiles configuration of choice for this application, offering supple flexibility that can accommodate dynamic valve function.
Aran Biomedical can custom design medical textile fabrics, whether woven, knitted or braided for use in these types of structural heart implants.  The choice of material, fabric thickness, pore size, strength and stretch ratio, are just some of the characteristics that can be optimised to your requirements.  The fabric can also be laser trimmed to avoid fraying and shape formed to conform to the underlying implant and facilitate assembly.
 PTFE Covered Structural Heart Frame
PTFE is widely used for a diverse range of structural heart implants, such as occlusion devices, heart failure implants and heart valve frames.
Aran Biomedical offers PTFE covering for the most challenging implant geometries, including conical, flared and bulbous designs. In many cases, integration of PTFE onto the frame, avoids the requirement for labour intensive and highly technical suturing. Given an established clinical history of use in vascular indications it is often preferred as an alternative to textile covering options.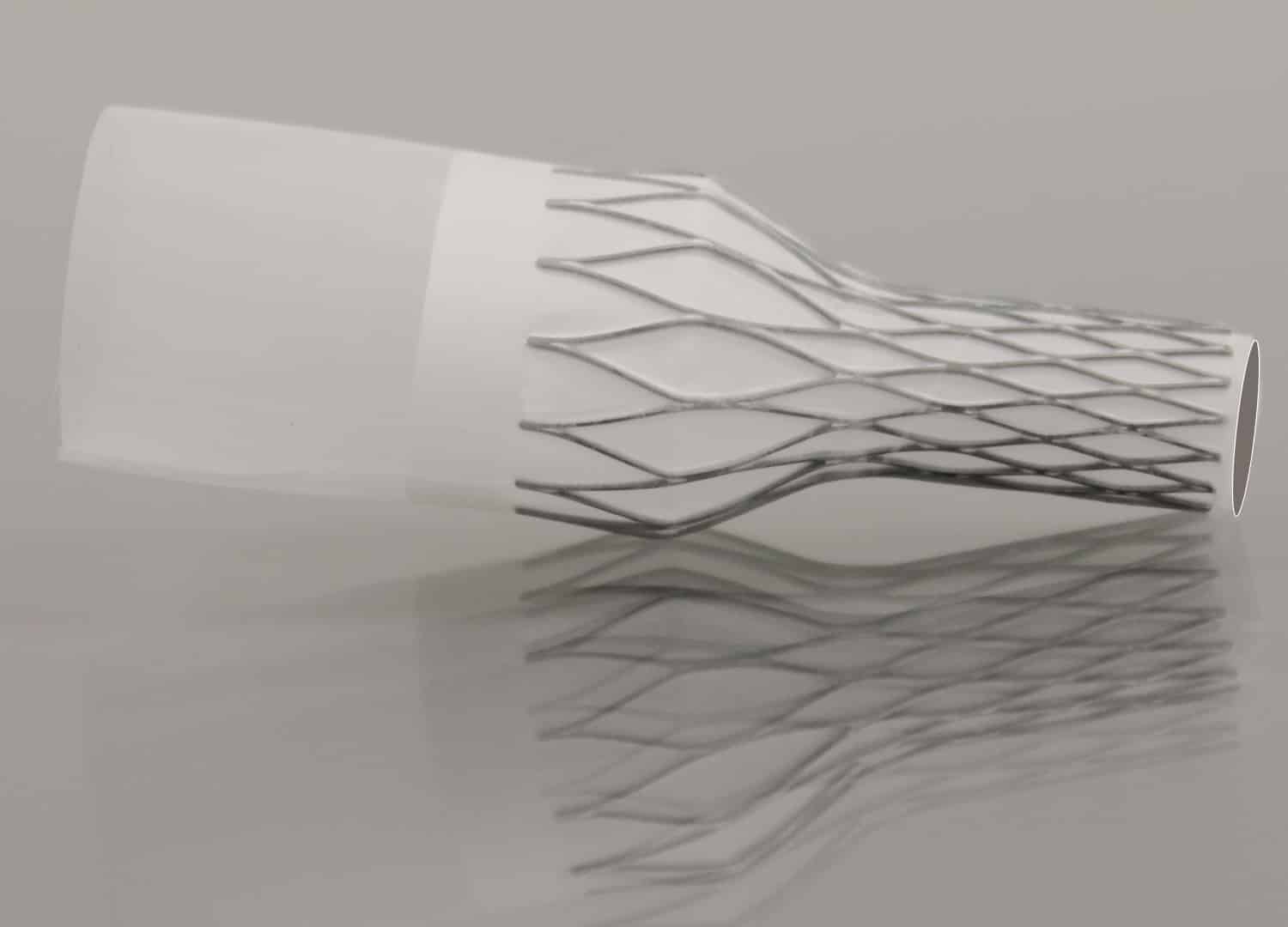 Electrospun Covered Structural Heart Frame
Aran Biomedical can also create electrospun scaffolds or apply electrospun fibres directly onto stents and similar metal frame implants.  The benefit of these types of biomaterial fabrics is that their microporous structure encourages tissue ingrowth.  The composition of the electrospun fabric or covering can be tailored as required, such as modifying porosity, thickness, fibre alignment and fibre diameter.
There is an extremely diverse range of resorbable and non-resorbable materials that are suitable for electrospun processing, with unique mechanical and physical properties. Both coatings and electrospun coverings expand the design scope for new product development for a wide range of vascular indications.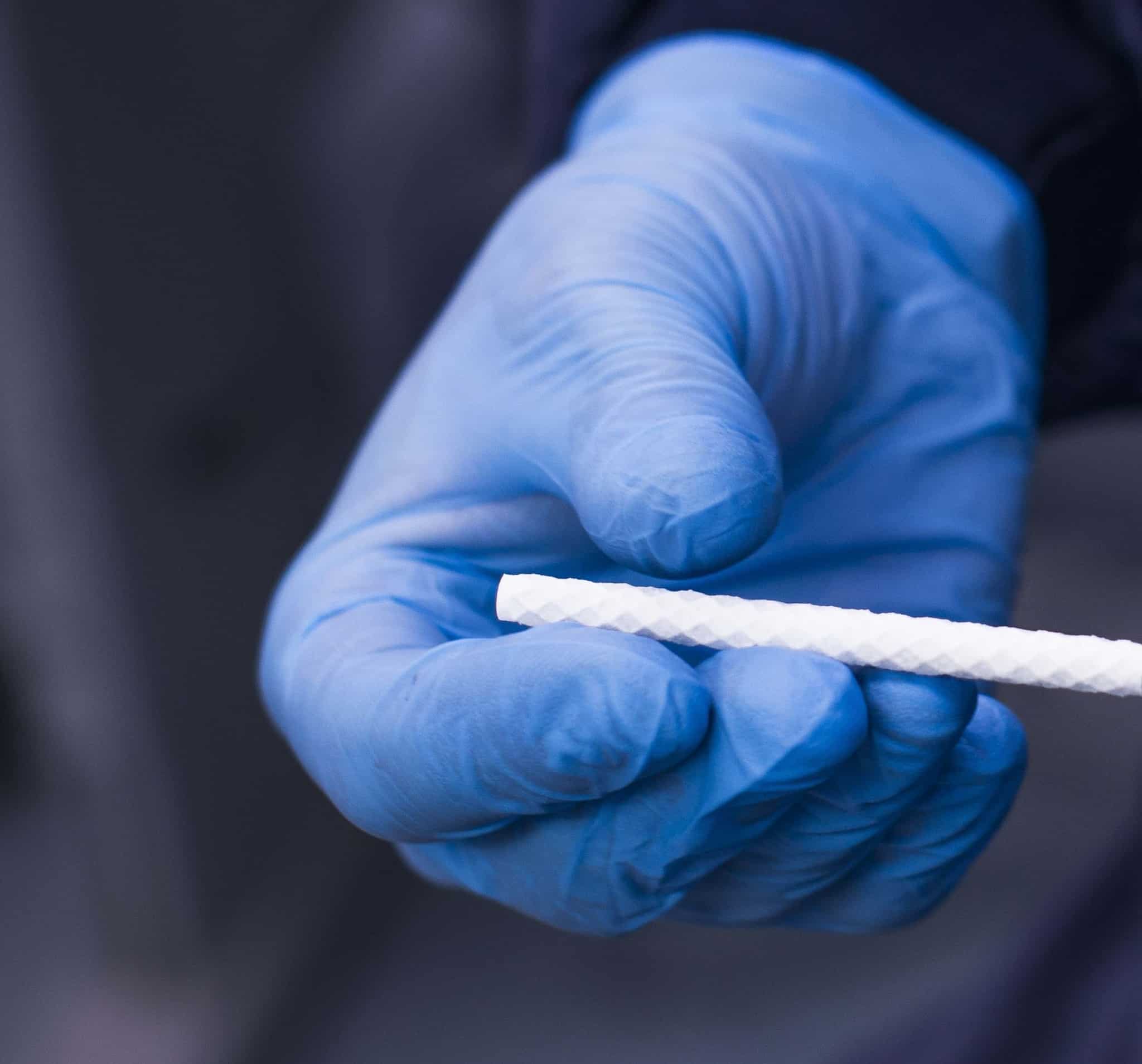 In certain structural heart indications it may be necessary to coat textiles, for example, to create an atraumatic surface where the textile may be in contact with native valve leaflets, to reduce permeability, to facilitate removal of the implant over time or to promote certain blood surface properties.  Aran Biomedical can apply a range or resorbable and non-resorbable coatings to textiles to enable this functionality. Uniform, high quality polymeric coatings can be applied to a very high tolerance and low profile, with the grade chosen to accommodate preferred mechanical properties.