Custom Design, Development & Manufacturing of Medical Implants Discover Where We Can Support Your Product Development Requirements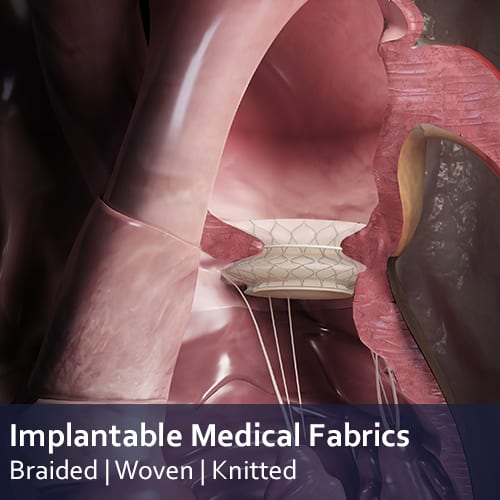 Implantable Medical Fabrics
Custom fabrics for implantable devices. Textiles can be braided (synthetic yarn or nitinol), knitted and woven, for applications such as grafts, heart valves, sutures and hernia repair mesh.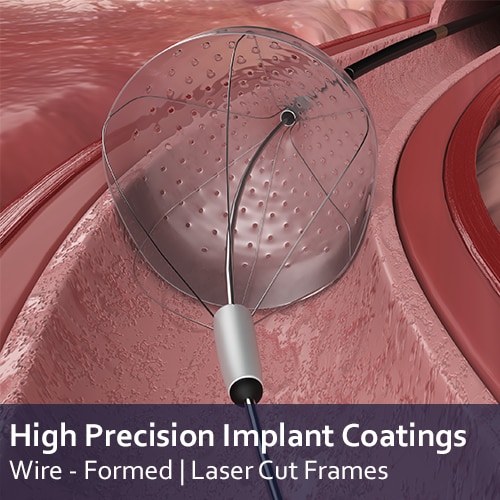 High Precision Implant Coatings
Versatile coating options to enhance the functionality of devices and implants. Low profile elastomeric membranes, from 5-50 microns thick, can be applied to stents, braids or fabrics.
PTFE Covered Stents & Grafts
PTFE encapsulation services for balloon and self-expanding stents, offering wall thicknesses from 50 microns. Suitable for diverse frame geometries, including conical, flared or double flared designs.
Located in the Medical Device Hub of Galway, Ireland, Aran Biomedical is a trusted partner in design, development and manufacture of biomaterial focused medical implant products. We provide expertise in medical textiles, biomaterial covering and coating of implants, as well as absorbable implants. We have a proven track record in innovative design and quality-assured manufacturing, delivering solutions for a range of different markets and medical applications. Aran Biomedical enables you to supply next generation products to clinicians and their patients.
End-to-End Product Development Services