Custom Design, Development & Manufacturing of Medical Implants
Aran Biomedical is a trusted partner in design, development and manufacture of biomaterial focused medical implant products. We provide expertise in medical textiles, biomaterial covering and coating of implants, as well as absorbable implants. We have a proven track record in innovative design and quality-assured manufacturing, delivering solutions for a range of different markets and medical applications. Aran Biomedical enables you to supply next generation products to clinicians and their patients.
Discover Where We Can Support Your Product Development Requirements

Cardiovascular
Implant Covering Solutions
Cardiovascular
We provide a range of stent and implant covering solutions,
from PTFE covered stents, coatings for occlusion and retrieval devices,
as well as textiles for cardiovascular implants.

General Surgery
Over 10 years' experience.
General Surgery
Our device expertise and platform product solutions allow companies to develop a complete portfolio of hernia repair products, from standard flat-sheet hernia mesh, to composite and resorbable designs.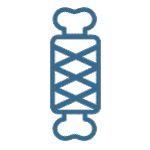 Orthopaedics
Resorbable implantable solutions.
Orthopaedics
Resorbable implantable solutions are used widely in Orthopaedics & Sports Medicine. We offer a product platform solution, known as Bio-XT optimising inherent strength of resorbable implants and biomaterial scaffolds.