Lowest Profile Implantable Textile Solutions
Aran Biomedical are pioneers in the field of thin, completely custom, implantable grade textile development. We have been able to achieve enviable wall thickness measurements by drawing on our extensive knowledge of textile constructs. We use the latest biomaterial textile technology & components, including advanced medical grade yarns, hybrid materials and proprietary post-processing techniques.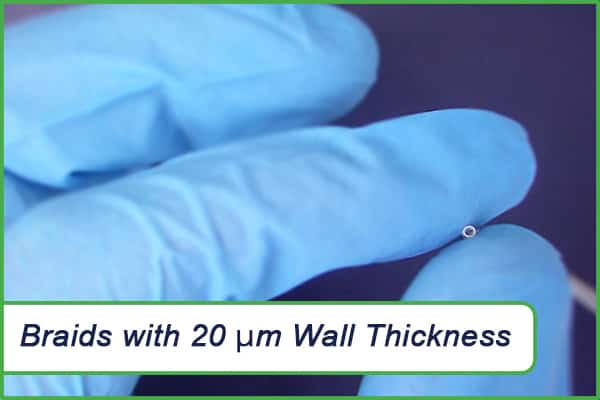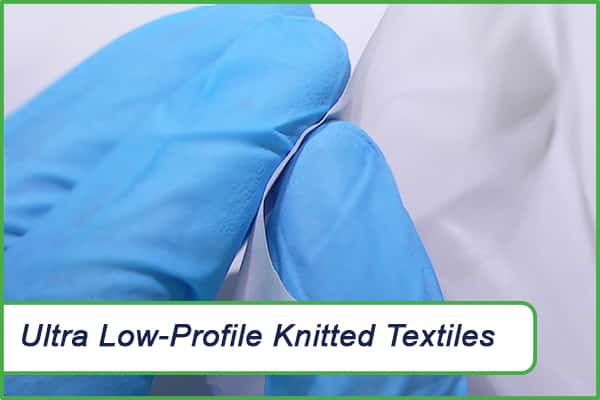 Lowest Profile Implantable Textiles
Aran Biomedical has pioneered the lowest profile Implantable Grade Textiles, supplying exceptionally low-thickness textiles as components or finished medical devices. These thin implantable fabrics can be developed in knitted, braided & woven configurations.
Our textile solutions have been tailored for implant covering or be attached to a magnitude of frame designs & varying geometries. We characterise and analyse each frame, predetermining which performance characteristics the fabric will require to meet its delivery needs.
Condensed Medical Textiles
Aran Biomedical applies proprietary processing technology at our facility to significantly reduce fabric thickness. The compressed fabrics allow for a lower profile for minimally invasive delivery, a smooth surface finish and a higher strength-to-profile ratio.

Multi-filament yarns are typically used, as they offer a more suitable structure for condensing. Our condensing technology can be applied to a wide variety of materials, including polymers & absorbable polymers. Our textile engineers work with our customers to establish the desired profile and performance criteria, and create a construct to match. Constructs can be braid, woven or knitted.
Why work with Aran?
– Determine feasibility through proof-of-concept prototyping
– Develop the lowest profile textile solution that meets your design specifications
– Improving upon your prototype or predicate device
– Advance your next generation device with lower delivery sizes
– Transfer your existing commercial product manufacturing and accelerate your timelines