Biomaterials Library
Biomaterials Sourcing
Aran Biomedical has a deep understanding of an extensive library of biomaterials, with a particular focus on polymers.
Our expertise includes homopolymers and compounds of both resorbable and non-resorbable materials, along with their respective characteristics such as mechanical performance, degradation profile, and biocompatibility. We source all of our biomaterials, in their original form, from trusted external partners. We then focus on optimising these materials using a broad range conversion processes to create biomaterial constructs and finished devices.
We prefer to select polymers which have a strong clinical history in order to minimise the regulatory pathway associated with device development and clinical implantation.
We offer traceability, accountability, quality, consistency and safety of supply chain from initial precursor substances to final materials production.
ProTEX Med™ Polypropylene Resin
Aran Biomedical's proprietary medical grade Polypropylene (PP) – ProTEX Med™, is a unique custom synthesised resin, exclusively available for partners leveraging downstream textile conversion processes. It is certified to technical specifications and ISO 10993-5 (cytotoxicity), with proven equivalency to currently implanted PP grades. ProTEX Med™ comes with a unique FDA Device Master File reference, available to resin users to support associated product qualification.
Users of ProTEX Med are assured that constituent material of their implantable devices, is not contraindicated for long term human implantation. Therefore, product specific qualification of the device for long-term implantation, undertaken by the device owner, will determine device fitness for use.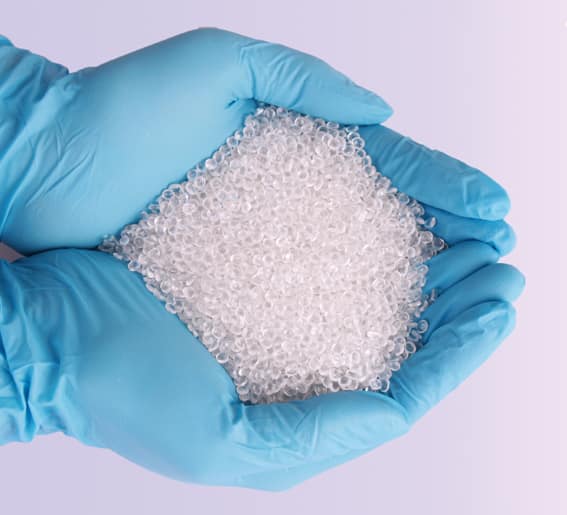 Benefits
Streamline your supply chain (resin-fibre-textile solution)
Ensure continuity of material supply for your medical implants
Reduce the risk associated with a contra-indicated resin
Supported by end-to-end solutions for implantable biomaterials
FDA 21 CFR 820/ ISO 13485:2012 Quality Management System
Class 8 cleanroom manufacturing facilities
Product design, development and manufacturing services
Regulatory consultation service to support product qualification
Custom polypropylene synthesis
Aran Biomedical also offer a custom synthesis service for partners looking for an exact match to specific polypropylene resin grades used in existing products.  The service includes comprehensive testing and characterisation to demonstrate physical, chemical and biocompatibility equivalency, in resin, fibre and processed textile forms.  This approach addresses material regulatory compliance for existing products, while ensuring long term security of supply.
Resorbable Material Management: In order to ensure consistent quality, Aran Biomedical has a range of resorbable material management systems.
Degradation Control: viscometers and moisture titration equipment are used to characterise and test the material degradation profile, while vacuum ovens are employed to ensure material quality during and after processing.
Handing Facilities: resorbable materials are kept in cold storage and all units are vacuum sealed and packaged appropriately, to protect parts and maintain material integrity.
All material is controlled through a comprehensive Quality Management Systems (QMS) system, to ISO standards, with activities carried out under cleanroom conditions.  This ensures quality and trace ability from resin to finished device.
Next Generation Technologies
Aran Biomedical continue to partner with a wide range academic and industrial partners to explore the latest innovations in biomaterials.
Nano-structured Biomaterial Surfaces:
Advanced processing techniques for production scale, nano- and micro-texturing of surfaces, to provide optimal spatiotemporal cues for tissue regeneration.
Cellular Therapies – Cartilage Regeneration:
Stem cell assisted tissue regeneration utilising Aran Biomedical biomaterial scaffolds as a substrate for stem cell delivery.
Controlled Cellular Response:
Physical, surface and chemical engineering of the interface between the biomaterial construct and the host tissue, to enable optimised attachment, growth, proliferation and differentiation of relevant cell phenotype.
Plasma-assisted Functional Coating:
Advanced plasma deposition technology for surface engineering of biomaterial implants.