Implantable Grade Polyester Yarn (PET)
Aran Biomedical has been producing implantable medical textiles and fabrics for over 15 years and critical to the success of these fabrics is the input yarn or fibre.  Whether the yarn is for short term or long term implantation, multi-filament or mono-filament, resorbable or non-resorbable, Aran Biomedical's textiles engineering team, place careful consideration on yarn design, working in partnership with our long established vendors to tailor the yarn specifications for a particular device.  Upon receipt, inspection and characterisation, yarns then pass through textiles preparation at Aran Biomedical, where they are split, warped or twisted for fabric manufacturing.
One of the most widely used yarns in the manufacture of implantable medical fabrics, is Polyethylene terephthalate (PET). This is the most common resin of the Polyester family, and the fibre is often known in the medical field as Dacron or Terylene; the trade name given by the larger resin providers.  These resins grades are occasionally modified by the primary resin suppliers.  It is important to keep up to date on the latest medical grades is use, as changes made to a raw material can impact the long term supply of implantable fabrics currently in use.
Working with PET Yarn
Aran Biomedical uses the latest grades of PET fibre required for implantable use.  Through our partnerships with dedicated yarn manufacturers we also have access to the lowest profile yarns, offering the latest innovations in strength and mechanical performance.
Some of the reasons PET is so widely used in the medical device space are as follows: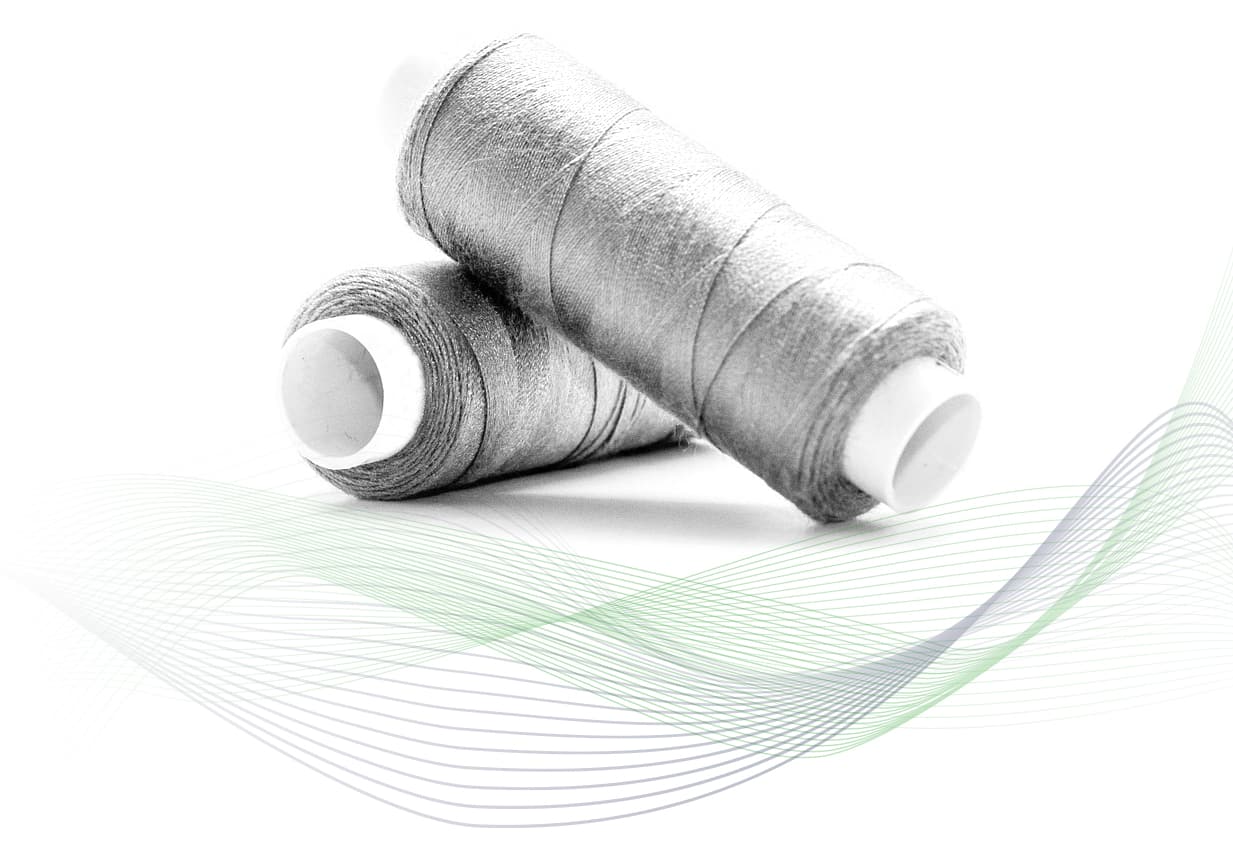 Wrinkle resistance
Heat resistance
Good mechanical properties
Polymerization and cross linking with other input material
High Strength and flexibility
The expertise at Aran Biomedical translate these high level benefits of PET yarn, into a fabric that delivers tangible performance criteria, which can be supplied as a component or finished device.

Through proprietary processing techniques, Aran Biomedical develops ultra-low-profile, silk-like PET fabric solutions, known as UltraFine Medical Fabrics, which are perfectly suited to minimally invasive devices. Our cutting edge equipment has been optimised for managing these extremely fine yarns.  The profiles that can be achieved in each configuration are outlined below. Not only does a lower profile support minimally invasive delivery, it also accommodates the encapsulation of extremely fine and detailed components.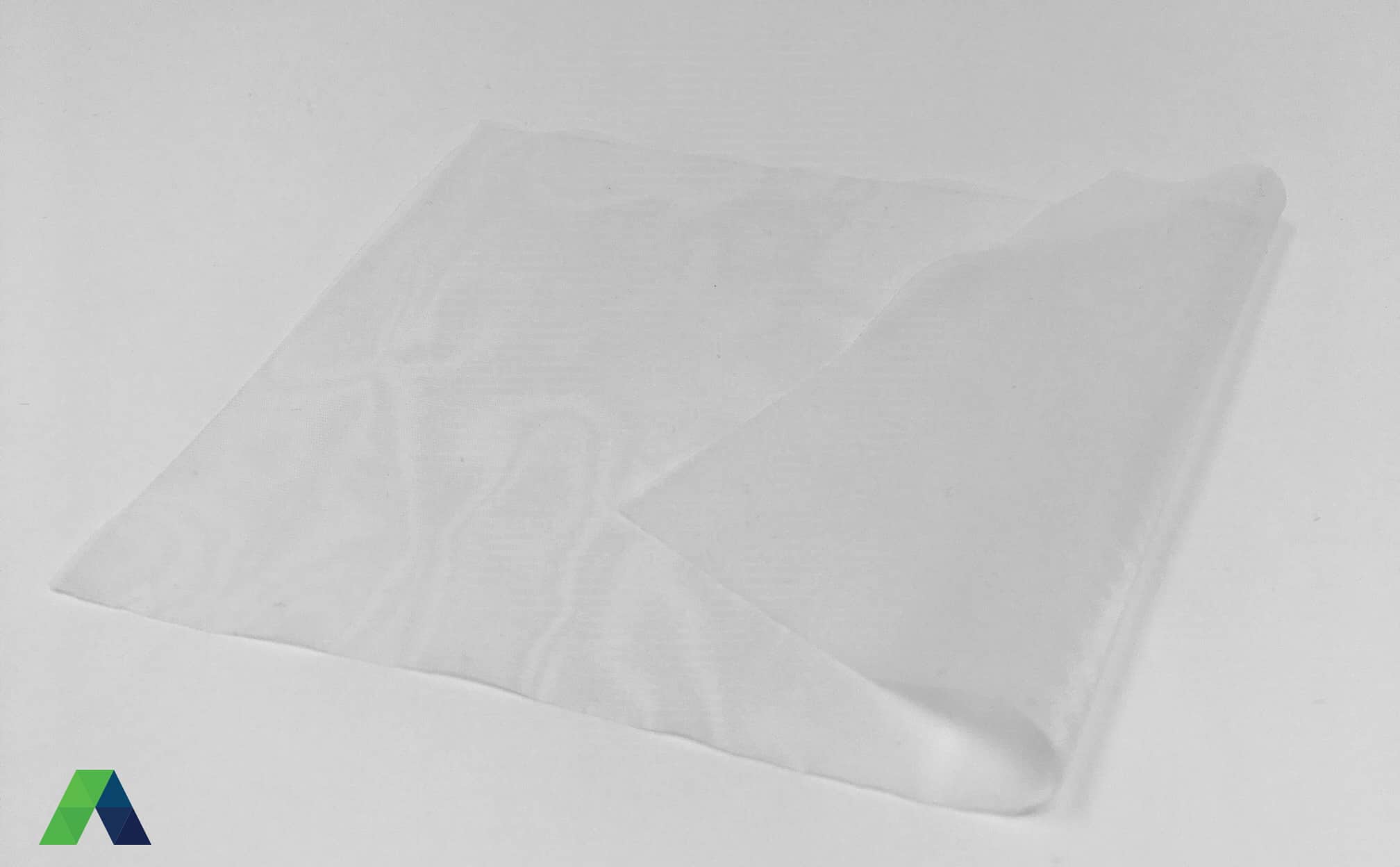 Detailed below, are three types of textile configurations Aran Biomedical currently offers using this fabric platform:
Braiding
Aran Biomedical offers horizontal and vertical reel-to-reel braiding systems, as well as variable braiding systems for complete design versatility.  PET braids are typically used for the manufacture of sutures and other soft tissue repair applications, as well as diverse implant covering applications.
Aran's UltraFine Medical Fabric can achieve braided constructs with a wall thickness of just 20 microns.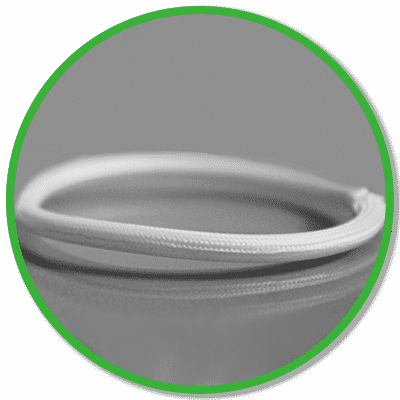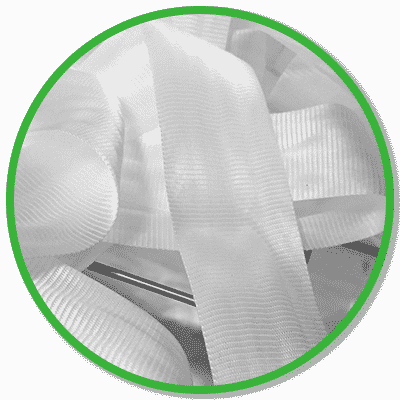 Knitting
Knitted fabric is used in the manufacture of valve skirts, grafts, occlusion and embolic protection devices
Aran's UltraFine knitted medical fabric can achieve fabric thickness of under 40 microns.
Weaving
Woven fabrics are used in the manufacture of valve skirts, vascular grafts, soft tissue bands and patches
Aran's UltraFine woven medical fabrics can achieve fabric thickness of under 40 microns.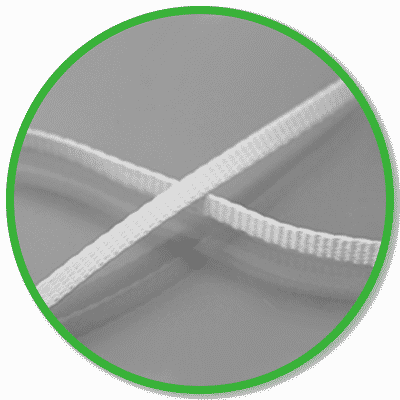 Medical Grade PET Post-Processing
Aran Biomedical's textile equipment is extremely versatile and fabric can be developed in flat or tubular configurations. The knit/ weave design is optimised through our software controlled equipment, enabling very unique designs.  However many of our post processing capabilities ultimately determine how effectively a fabric can be integrated into an implantable device.
Scouring – washing a material with a solvent-based or water-based material to ensure the material is biocompatible and, if necessary, to shrink the fabric.
Heat setting – ensuring the dimensional stability of fabric i.e. the fabric dimensions, as well as the pore size and shape remains consistent.
Shape setting – using heat and tooling to shape an implantable fabric into a specified 3D geometry.
Laser cutting – using high-precision lasers to cut and shape textiles, whilst maintaining the integrity of the component and avoiding any frayed edges.
Ultrasonic welding and sealing – bespoke tooling is designed to focus the ultrasonic energy to produce the desired melt zone, providing a precise and repeatable means of textile fusion.
Sewing and embroidery – fastening or attaching textiles together using stitches and loops.
Laminating – due to our complimentary capabilities in coating and PTFE encapsulation, our fabric can be integrated with these materials, either as a means of creating impermeable zones, for assembly or modifying the surface properties of the fabric.